Published on June 10, 2014
Or
Having a baby while facing a serious health condition may not be a good idea
By Shakti Mhi
As a little girl, I remember how the women in my extended family were talking with admiration about other women, like the sister in law… the wife of the neighbor… or any other woman that dealt with serious health issues, and as a result were forbidden by the doctors from getting pregnant.  And yet these women decided to risk their health and sometimes their lives to get pregnant, no matter what. These women were perceived as brave because they didn't give up, while sacrificing their health for the most important thing in life – having a baby.
Many of these women, after having a few children, kept dealing, throughout their lives, with heavy-duty health issues, often living on medications permanently. Their life's quality and long term health were never a concern… the important thing was that they fulfill their duty as women – bearing children.
In the culture I was born in, having a baby was the biggest aspiration of every woman. Nothing could come before or above the desire to be a mother.
My mother always preached to me that a woman that does not have a baby is not a real woman!
The fanatic approach of my tribe about having children demonstrates the strong evolutionary drive of nature to continue the race.
As human beings the biological drive to fulfill our role in the continuation of the race manifests as an internal strong desire for having a baby.  This desire is wrapped with powerful feelings of love that are often mistaken as unconditional love towards our children.
It is a mistake to think that our love for our children is unconditional love. The strong love we feel for our children is based on a very strong condition. The condition is that in one way or another our child must belong to us. If this condition would not exist we would love our children and the children of others exactly the same way, but this is not the case. We do feel strong love for our children because they belong to us.
Throughout my life I met many women with serious health conditions that sacrificed their health, and often even their lives, for having a baby, because of the feeling that they must become mothers no matter what.
Most of the women are not aware that their deep and often unbearable desire to become mothers is a result of hormones, to make the female physical body fulfill its role in the evolutionary process of continuing our race. It's no different from mother giraffe or mother kangaroo and often without any rational thinking about the wellbeing of the child or of the mother. The drive to be a parent is an instinct.
This is the reason why the tribe will encourage such sacrifices from women. In the collective human consciousness, pregnancy and birth has a higher value than the mother's health.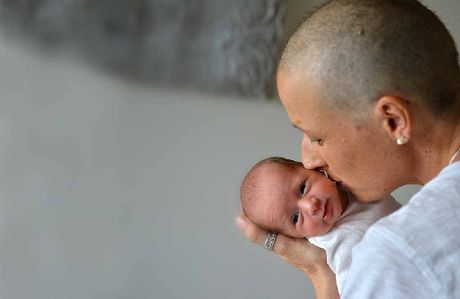 In the last week the newspaper had a big headline about two women that risked their health for giving birth.
One of the young women has Cystic Fibrosis and as a result had a lung and liver transplant! The message of the article was that nothing could stop this beautiful young woman from becoming a mother; she was praised as the ultimate woman.
Maybe instead we should praise the women that do stop for a second or two and do make a decision to take care of their own health instead of investing all their weak body's energy in making a new human being.
Beside the fact that Cystic Fibrosis is hereditary (and this should already be a consideration in getting pregnant), the birth of the baby is not the only indication for the success. The question is: what is the quality of life and health the mother will have after her weak body, which is dealing energetically with so many health issues, will face after investing all its energy in creating a baby, and how will this affect the quality of life of the child?
Another article told the story of Maya, a young anorexic woman that up to a year ago weighed only 63 pounds. Now, after giving birth, she is asking the world to pray for the life of her little baby, who was born weighing 1.3 pounds. The article praises Maya for her braveness of not giving into the weakness of her body. Before everything I am wishing Maya and her new born baby all the best and healthy life, but I am asking: " What did you think, Maya, while bringing a baby to life in a body that barely can sustain its own life?… The answer is that there is not much thinking when most of the people bring babies to the world, it is mostly a strong drive to become a parent and often to the detriment of the mother and the baby's well-being for life.
In the article Maya was quoted saying " I went through tough fertility treatments, knowing I am risking my life, just so I can get pregnant"
From my point of view any woman whose life becomes meaningless if she cannot become a mother, turns herself to be a walking womb. Her only function is to fulfill her role in the evolutionary production line.
Another interesting article in the newspaper was of Amira, a woman that since she was 18 years old was diagnosed with clinic depression, with a strong tendency for committing suicide, and yet she brought to the world four children that every morning wake up to another potential day where their loved mom may kill herself.
Amira tells how her five year old boy keeps asking her when will she die?
The interesting aspect of the article is that the journalist never raised, throughout the interview the question why, knowing you are clinically depressed, and with a few suicide attempts, you still gave birth to four children? The reason is that the question why does rarely exist when it comes to having children. The main questions that comes up in relation to have babies are when, how many and with whom? People often will say you do not need a good reason to have children, you just do it. The question "why?" is only raised in the context of not having children… why would you not want a baby?
Below is the explanation of the reason why is that it may not be a good idea, from the point of view of Yoga, to have a baby when your body or mind is struggling with heavy duty health issues.
In the philosophy of yoga the energy that keeps the physical body together is called Prana, life force. Prana is the force that moves our physical body and the energy and mental bodies.
Many people in the west confuse the term Prana with the term Energy we use when we feel energy after a workout in the gym or after a long jog.
It is important to understand that the term Prana and what westerns call energy are two very different things.
Many people that do lots of sports and as a result feel very "energetic" are actually depleted of Prana as a result of over doing physical activities. In the same way that a sports car will use much more fuel than a regular car, often people that overdo intensive physical activity empty their reserves of Prana.  This is the reason why most of the sportsmen that depleted their bodies of Prana end with serious injuries. There is no Prana left in their body to hold it together.
Another classic example is women that overdo physical activities, depleting their Prana, and as a result their body does not have enough Prana to facilitate their monthly period, and it stops.
For the process of healing we need tremendous amount of Prana, and of high quality. Every disease or injury takes lots of Prana from the body. This is the reason why people that got sick or injured while they have reserves of Prana heal faster than people who arrive to such physical condition with empty reserves.
In any case of the body dealing with extreme conditions such as cancer, diabetes, heavy asthma etc.,  there is a need to switch to an emergency mode where we do not waste Prana, and instead we start to build up the amount and quality of Prana in our body, which will be used for healing.
Embryos that develop in a woman's womb need huge amounts of Prana to evolve from a fertilized egg to a complete human being. This is why a baby in the womb gets the first priority to receive Prana in the body. That means that if the mother does not have enough Prana to share with her growing baby, the Prana will be redirected to the baby to the detriment of the mother's body.
This is the reason why many women deal with depression after giving birth. If the woman got pregnant when the level of Prana in her body is low, as a result of stress or dealing with an extreme physical condition, by the time her pregnancy is completed and she went through birth, she is so depleted of Prana that it creates a strong imbalance in the mental and emotional aspects of her being.
So if a woman gets pregnant while her body is dealing with an extreme health condition, the damage after her pregnancy can be serious, because instead of enhancing the Prana in her body for healing, the baby and the pregnancy will have taken the little Prana she has, and the body will remain empty of this precious "fuel".
Because in most of the parts in the world having children is the ultimate goal, many women feel like heroes when they sacrifice their health and life to fulfill this goal. They force on their bodies, which are dealing with heavy conditions, a pregnancy and birth, often paying a high price in their physical and mental wellbeing, and that of their children.
Having a baby, ideally, is done with a spiritual, high consciousness, and not from a blind, instinctual drive.