Published on January 2, 2014
By Shakti Mhi
At the age of 10 I made a clear decision to never age. As a young sweet little girl whose main concern was to get as much attention as possible from the boys, at school I was terrified by the thought that I will ever have wrinkles, so I made a clear decision to kill my self at the age of 30.
At the age of 30 I couldn't wait to be 50 years old. I was already deep into the spiritual path, looking for my way out of the misery of my own existence. I was in a rapid process of letting go. Letting go of my past, my roots, letting go of all my identifications while forming a new self, a spiritual self that I hoped will rise above all my conditioned selves.
At that time, the age of 50 looked like a sacred mountain that when you reach to the top you get a panoramic view of reality as it is, with no need to keep climbing up anymore.
And then the age 50 arrived!… and with it arrived the aging process of my body. The physical structure that holds my consciousness started to get rusted.  My skin, my bones, my hair, my muscles and organs started to obey the law of time and space.
As a baby in my mother's womb, after floating freely in the water, at one point, with an internal signal, I was directed towards the exit… that was the entrance to the physical dimension. Now my body, again, follows an internal signal that directs it towards the exit of this material dimension.
I would lie if I said that aging physically is an exciting thing. It's no different than living in an old house. The amount of maintenance that is needed to keep it together keeps increasing.  But as I suspected in my 30's, the panoramic view of reality from the top of the mountain is breathtaking. There is nowhere to go, or nothing to reach out for. And even though your eyesight gets weaker with time, you do not need your physical eyes to see into the horizon of existence.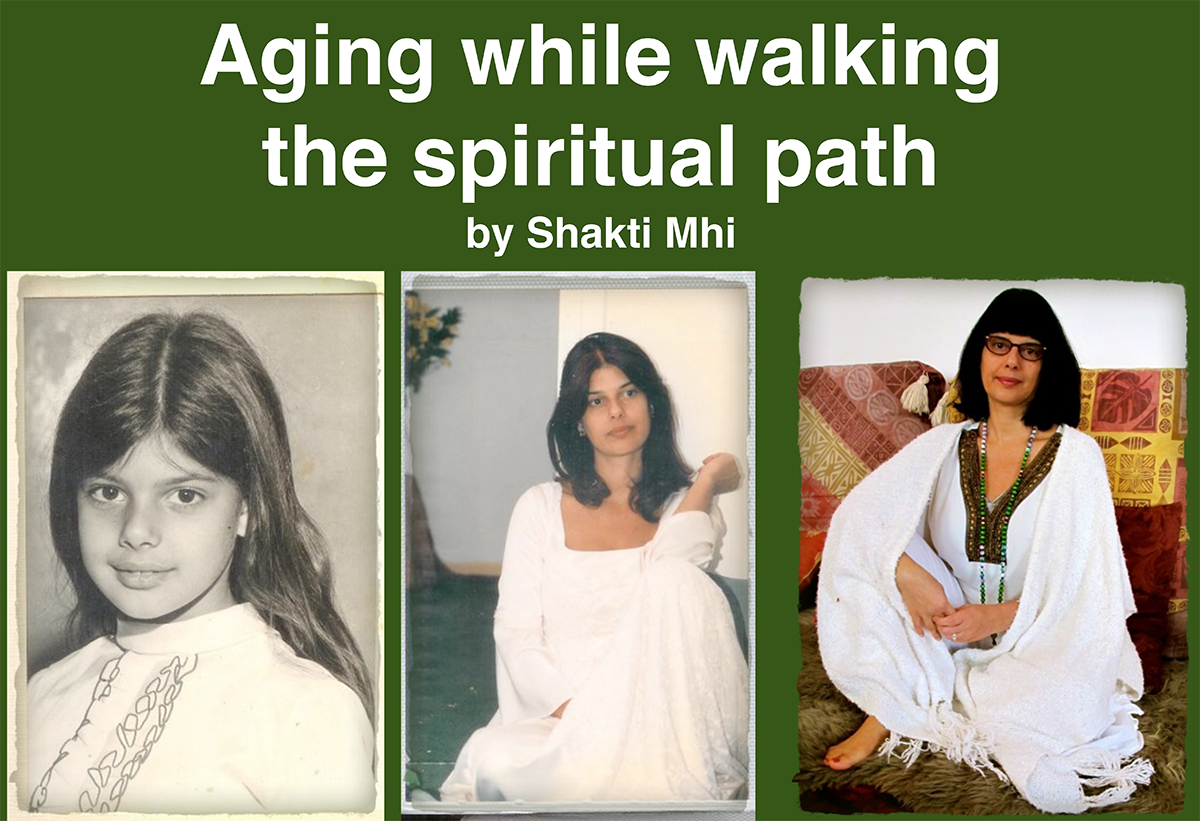 My Zen teacher said: when you are young you are chasing life but when you are old you sit quietly watching life coming to you.
The taste of wisdom that comes with age is sweet and replaces the sweetness of dwelling in a young and beautiful body. Now it is time to let go of all the selves I formed during my lifetime, even the spiritual ones, and simply be, beyond time, space, and the story of my life.
I have lots of compassion for aging Shakti, I love and accept her the same way I love and accept Shakti at 10 years old, 30 years old, and all the many other ages. I observe her aging process… her face is changing… her body is different. I learn to know her in an older form, she is me but I am not her. All the Shaktis in all their ages are within me, still popping in and out as they feel. I embrace them all while being aware they are all different manifestations of my higher self.
The spiritual path, as much as it was tough and even horrifying in many segments of my life as a seeker, gave me great tools to observe and deal with the ever-changing reality. Nothing stays the same, so what is the point to hold on to anything? Just this knowledge can either take you to the edge of your biggest fears or simply enrich your every moment. The choice is up to each of us.
Many men and women get terrified when aging takes place in their physical bodies. They often try desperately to stop the physical form they identify with as who they are, from changing.
Arriving at the wisdom age while clinging on to a certain body image can end up in disappointment and bitterness, a feeling of being betrayed by your body.
Unlike in the modern materialistic world, in the spiritual realm age is a second word for wisdom…they are often expressed together, as in "old and wise". Unfortunately in the reality of our society, where we are worshiping youth and physical beauty, many people keep investing all their energy in the physical shell, which becomes very fragile when there is nothing inside to support it from within. As a result, aging and dying inevitably become a very painful experience for so many people.